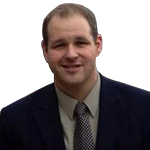 Professor Matthew Williams
Pontifex University
 Matthew Williams holds a degree in music from West Chester University of Pennsylvania, where his primary instrument was the piano and is Music Director at St. Gregory the great Academy, Scranton, Pennsylvania. Having been involved in church music from an early age, Mr. Williams is experienced in performing, teaching, and directing choirs as well as experience conducting instrumental ensembles. His speciality is in the area of Gregorian chant and polyphony in both the Ordinary and Extraordinary Forms of the Roman Rite. he also has had extensive involvement in planning of liturgical celebrations of the Mass, the Divine Office and Priestly Ordinations, and has served as organist for several parishes. 
The following course is taught by Professor Williams 
Introduction to Sacred Music
The primary focus of this course is to introduce students to the history and performance of Catholic Church music. Students also become aware of the need to share the gift of sacred music with others as a work not only of evangelization but also as one of the highest forms of praise an petition, which can be offered for needs of others and the glory of God. Promoting the use of music in the work of evangelization is an essential element to the program, and so the philosophy of music and its influence on our culture is discussed through the study of both the theological and moral importance of good musical forms based on writings of popes, church fathers, theologians, and philosophers. For more information about this course please click here.